It's strange to me how we, mostly in the West, cannot appreciate what Nature does without our help. This fall,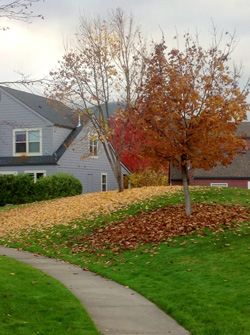 particularly here in the Northwest, has been especially color rich. Such glorious combinations speak of positive chi, but chi of a different nature. Fall is a time of transition with a glorious procession of events: first the leaves put on their spectacular show and then they reverse place – from on the tree to on the ground.  They present us with another incredibly wonderful picture of
beauty, HOWEVER We then get out the rake or blower and get all those pesky leaves out of sight. How bizarre!   Now there is another beauty – and more chi. Were we sensitive to what nature has to tell us, this is a time to take another look at our life, to quiet ourselves and to go inside. I suggest we can learn much by paying attention of the every changing chi in the progression of the seasons.  Remember, I Ching says everything is always in a state of constant change. [And Feng Shui developed from the principles contained in the I Ching.] Let that change in and let you life be filled with the richness of the colors of fall.